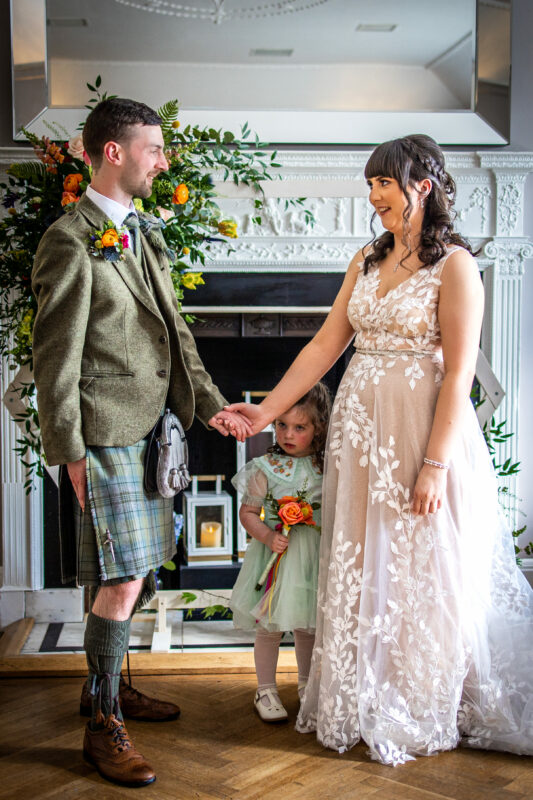 Rachel and Josh's Wedding at The Strathaven Hotel was nothing short of a wonderful explosion of colour and love. From the relaxed ceremony to the stunning setting and amazing photographs, it was an incredible day to be a part of.
The ceremony was full of laughter, joy, and fun, with both Rachel and Josh sharing heartfelt vows that brought tears to everyone's eyes. The relaxed atmosphere made everyone feel at ease, and it was clear that the couple was surrounded by so much love and support.
One of the most memorable parts of the day was when Rachel walked down the aisle in her stunning wedding dress, and seeing Josh's reaction was amazing. She later paired her stunning gown with a personalised denim jacket. It was the perfect mix of classic, casual and modern, and it perfectly captured Rachel's personality and style.
Throughout the day, the sun shone brightly, casting a beautiful glow over everything. We were lucky enough to find a wee red telephone box nestled away in the gardens, which made for some truly stunning photographs.
But perhaps the most amazing moment of the day was the colourful confetti shot. As the couple walked out of the ceremony, their friends and family showered them with confetti in every colour imaginable. The result was an explosion of colour and joy that perfectly captured the love and happiness that filled the day.
Overall, Rachel and Josh's Wedding at The Strathaven Hotel was a truly magical experience. From the stunning setting to the personalised details and incredible photographs, it was a day that will be remembered for years to come.
Congratulations to the happy couple, and here's to a lifetime of love and happiness together.