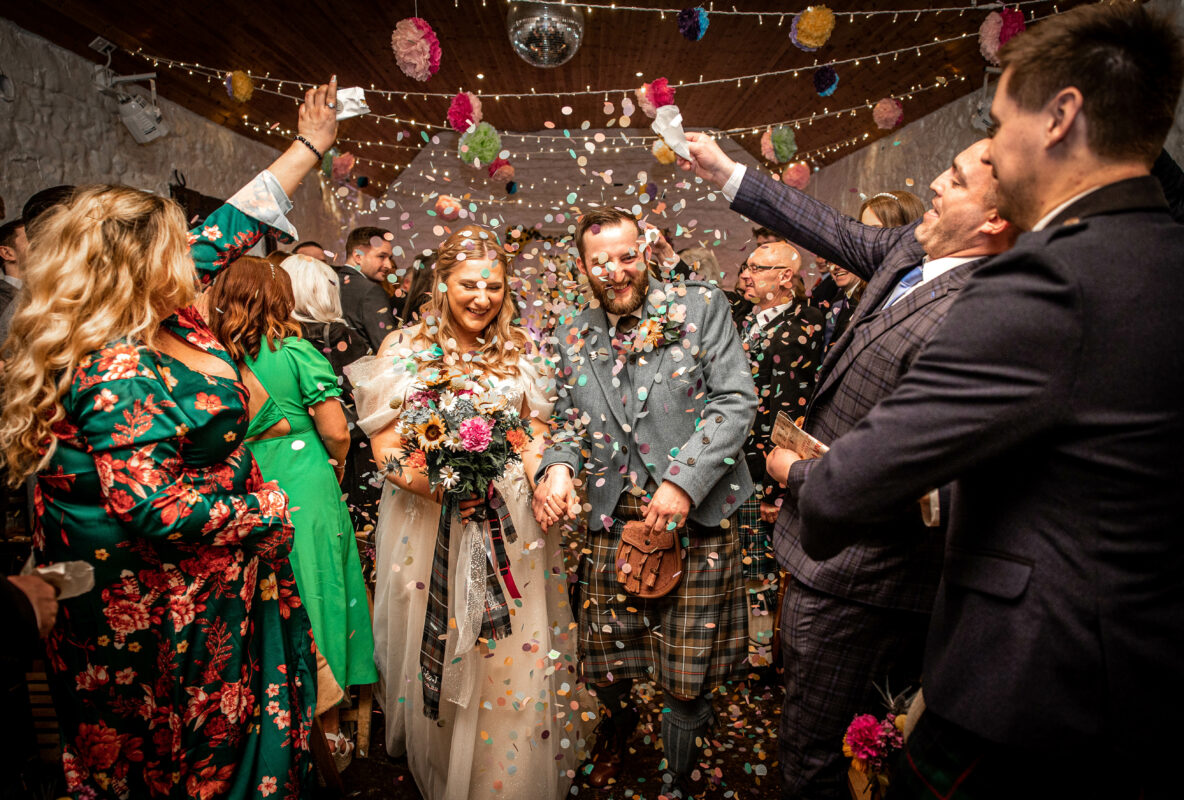 Cara and Johnnie's wedding at Dalduff Farm in Maybole was a celebration of love, creativity, and four-legged friends. The couple poured their hearts and souls into every aspect of the day, from the vibrant decor to the heartfelt ceremony.
As soon as guests arrived at the farm, they were greeted by an explosion of colour. Cara and Johnnie had spent months collecting and creating decorations that reflected their fun and playful personalities. From the hand-painted signs to the bunting, every detail was thoughtfully chosen to bring joy to their guests.
But the real stars of the day were Murphy and Luna, the couple's two beloved dogs. These furry friends were not just in attendance; they were fully involved in the day's festivities. Murphy and Lunda stole the show during the ceremony as they walked down the aisle with Cara and her dad and one of her bridesmaids.
The ceremony itself was a beautiful reflection of Cara and Johnnie's love story. They had been fully involved in the ceremony script and it just reflected them so well. The celebrant even included a special tribute to the dogs, acknowledging their important role in the couple's lives.
After the ceremony, guests enjoyed a delicious meal and danced the night away. But throughout it all, Murphy and Luna remained nearby, being looked after throughout the day by Hounds & Heritage Weddings and All Paw One, soaking up the love and attention.
Cara and Johnnie's wedding was a testament to the power of love, creativity, and joy. By putting their hearts into every detail, they created a day that was truly unforgettable. And by including their furry friends in the celebration, they reminded us all of the importance of cherishing the ones we love – no matter how many legs they have.